Junkride POOL JAM is great summer day full of adrenaline, music and fun ! Join us on 5th edition of thi unbelievable event !
About
Pool Jam is one of the best freestyle event in Slovakia. We connect freestyle sports like BMX park, street, MTB dirt jump, SKATE and also Graffity and Music. 30. june will be great time, sport contest, fun and night party !
Lets ride !
3. round of Slovak Freestyle BMX cup
BMX STREET, PARK, DIRT
SKATE Best Trick
Best trick in POOL
MTB Dirt Jump
MTB contest on dirt jumps
NIGHT JAM
Full Moon night bike and skate JAM
 Where ? Junkride Freestyle Park Šurany
Námestie Hrdinov, 94201 Šurany
More info about Junkride Freestyle Park Šurany
Party in the Freestyle Park !
After bike contest you can look forward to massive party
DJs
TRISTAN – HipHop – Streetlife
FEZRY – HipHop – FRWRD
SHORTY – HipHop / DnB – Junkride
SELO – DnB / Trap – Junkride
DIFFEREND – DnB – Junkride
A ďalší Junkride DnB/HipHop DJs
Other attractions
Tents
Fast Food
Black Flys Zone
Monster Energy Zone
Sunny Road
Junkride Shop
Basement Fest
Pumptrack
Free riding in pumptrack
Graffity JAM

Harmonogram
9:00 – 12:30 – training and registration
12:30 – qualification MTB DIRT
13:00  – qualification BMX STREET
14:00  – qualification BMX DIRT
14:30 – qualification BMX PARK
16:30 – finals MTB DIRT
17:00 – finals BMX STREET
17:30 – finals BMX DIRT
18:00 – finals BMX PARK
18:40 – winners results BMX a MTB
19:30 – SKATE BEST TRICK
20:00 – 0:00 – PARTY
21:00 – NIGHT JAM
Informations for riders
Competition system BMX a MTB
– MTB riding only dirt jump
– BMX riding in categories park, street aj dirt jump
– heats 4-5 riders
– qualifiacation – 2 rides – counts both
– to fianls go 10 riders
– when less than 12 riders, qualification is cancelled, will be only finals
– finals – 2 rides – counts only one !
– every ride is 1 minute long, or one ride on dirt jump line
– 3 judges: Michal "Maxo" Miškei, Robo "Kiwi" Kvito a Tomáš "Jimbo" Platko
 -Registrujte sa online !
Online Qulification – 3 winners from last Pool Jam 2017 and 4 best riders in actual Slovak BMX cup are prequalified online and dont have to ride quali
SKATE BEST TRICK
Skate best trick on pyramide after bike finals
NIGHT JAM
Night jam around 21:00
PRIZE MONEY 500€
Registration fee 5€ 
Online registration of riders on email:
Into mail write: name, age, town, category, sponsors
Poster Junkride POOL JAM 2018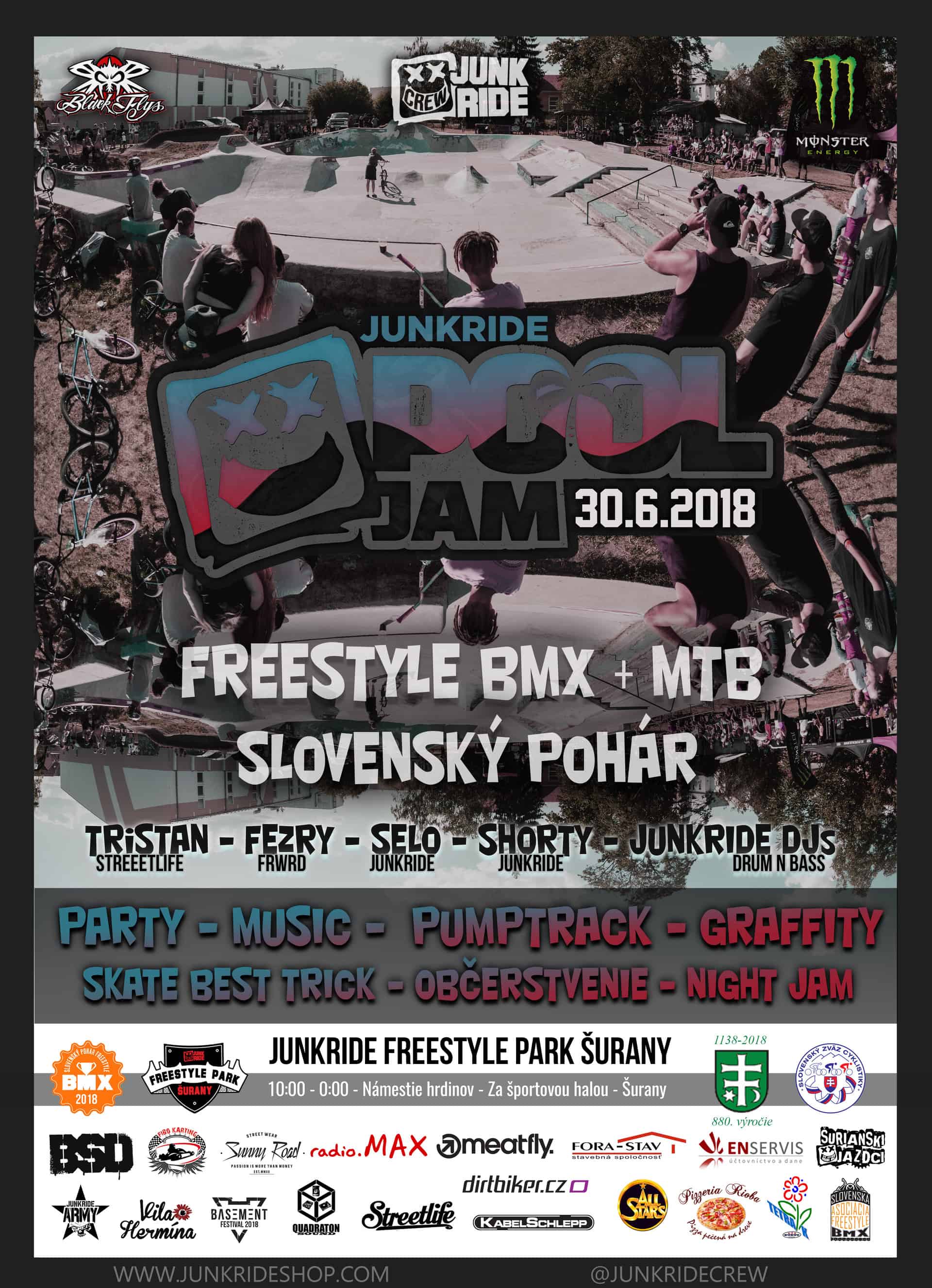 Organisators, sponsors and partners
Organisators:
Junkride Freestyle Park Šurany
Slovenská Asociácia Freestyle BMX
Občianske Združenie Šurianski Jazdci
Slovenský Zväz Cyklistiky
Main sponsors:
Junkride Shop
Monster Energy
Black Flys
Sponsors:
BSD Forever
Meatfly
Streetlife Crew
Fibo Karting
Sunnyroad
Basement Festival
EN Servis
Fora Stav
Dirtbiker.cz
Vila Hermína
Kuruc Company Tetra K
Kabelschlepp
Quadraton Sound
Pizzéria Rioba
ALL Stars
Mesto Šurany

Posters of last POOL JAMs: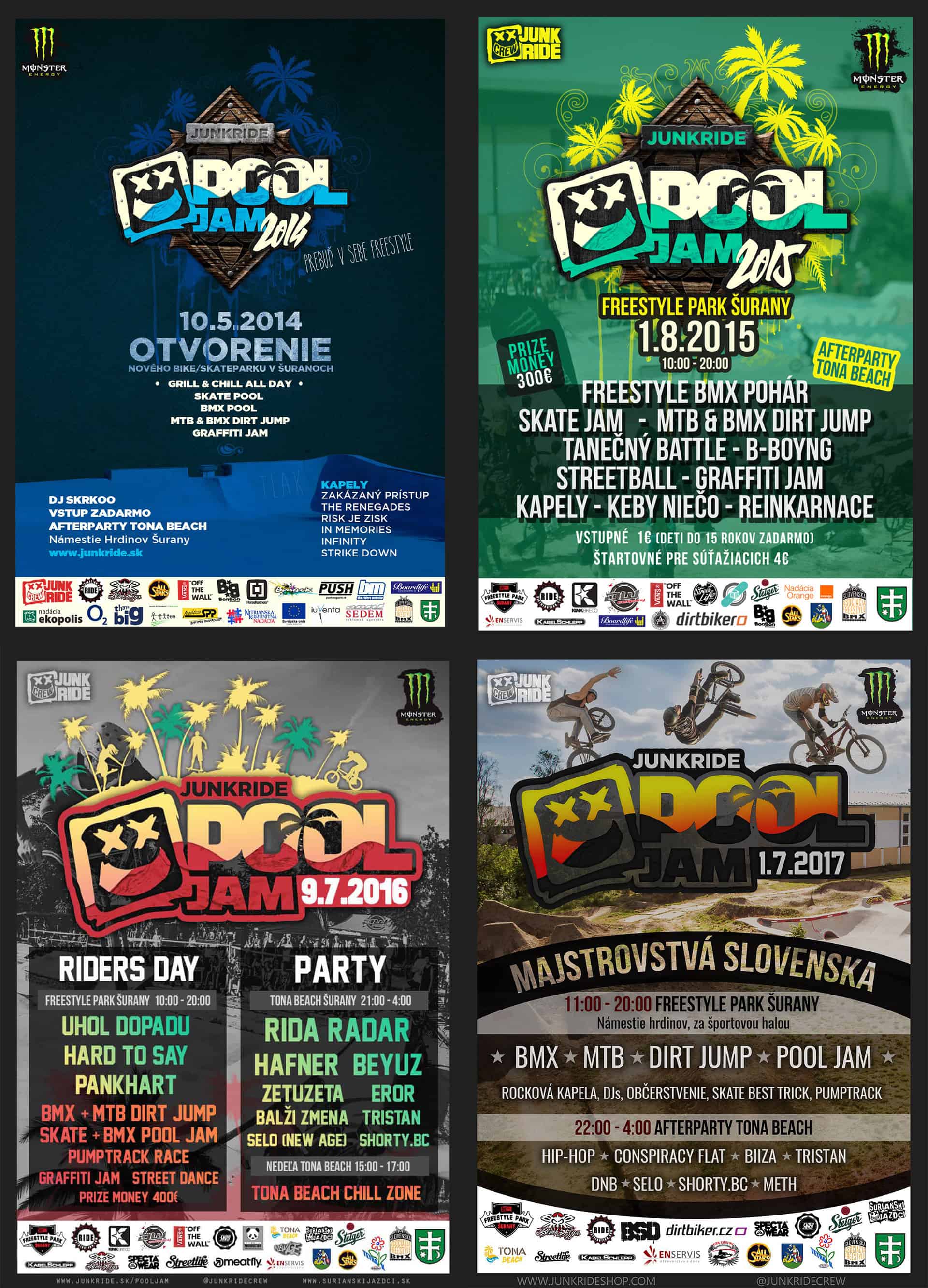 Junkride POOL JAM 2015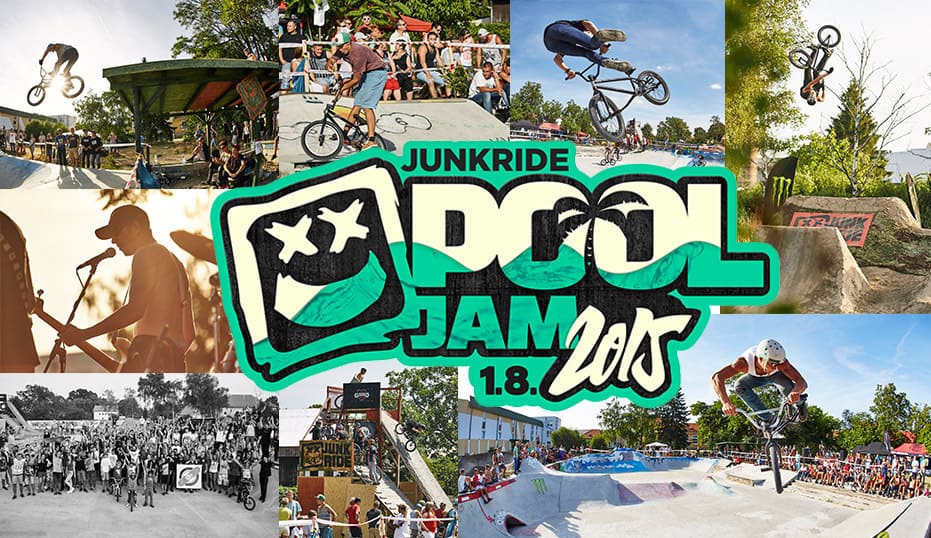 30.6.2018 !
Event on facebook